While going through my Google Reader feed last night, I came across
Dakota's Den's Blog the Change entry
. Intrigued, I found out that the blogging event happens quarterly, with the first happening today! One of the purposes of this blog is to raise awareness for dog issues and rescues, so I couldn't imagine a more perfect event to participate in.
It wasn't hard to think of what cause I wanted to blog about.
Big Fluffy Dog Rescue
(BFDR) came to mind for a couple reasons: they are very active and do amazing work, and Penny is a big fluffy dog herself! BFDR focuses on rescuing large and giant (and hairy) breeds like Great Pyrenees, Bernese Mountain Dogs, and Saint Bernards and all their crosses, though they occasionally get the "pocket" pup of 40 or so pounds.
Big Fluffy Dog bonus: They are fantastic footwarmers in the winter!
I first came across BFDR on
Facebook
, while looking at Pyr rescues. As you well know, Penny is 50% Pyr, so I've cultivated quite a fondness for the breed. If you look at BFDR's
adoption list
, you will see quite a few purebred Pyrs as well as Pyr mixes (and what they call "Pyre-nots", dogs who look deceptively like Great Pyrenees mixes), so I found myself visiting their site daily.
Part of BFDR's magic is that they truly embrace social media. With the help of weekly transports and dedicated volunteers, BFDR is able to operate over a wide region on the East Coast, spanning from Maine to Virginia (and lately, including Tennessee). BFDR also runs a Southern Dog Connection, a program that brings dogs from the south to more adoptable regions in New England. This cause is very near and dear to my heart. I went to school in Louisiana for two years and can't even count the number of stray dogs and cats I would see roaming around the city. To know that there are programs like this gives me some hope for all of those skinny, haggard mama dogs I saw looking for food.
What blows me away is how the administrators are able to communicate in a grateful, thoughtful way while maintaining a sense of humor. I've volunteered at an animal shelter in the past, and have friends in the rescue and foster community. It gets rough out there. REALLY rough. How an animal is found, the abuse endured, the shocking reasons people surrender their companion animals--it really wears you down. To handle all of that, AND to answer questions asked multiple times over the period of a few hours positively, well, that just takes some really special people!
Recently, there was a litter of five pups surrendered to BFDR. They came to the rescue orphaned under the very worst of reasons. Not only did BFDR fundraise and find foster homes at breakneck speeds, they kept those who had been following the story in the loop with daily (or near-daily) updates. I really don't know how they do it.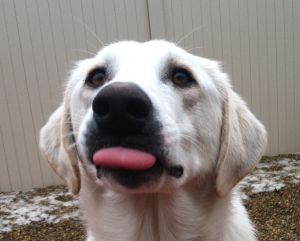 Rudy, a male Lab/Pyr mix in need of a home. (Photo credit: http://www.petfinder.com/petdetail/25102130)
Please consider fostering, adopting, or donating to Big Fluffy Dog Rescue. Visit and follow BFDR at: